Warranty Information
Nearly all product
s sold by Active Pool Supply carry a manufacturer warranty. If you feel you have a defective product, please refer to the warranty information packaged with your product.
Active Pool Supply does not express or imply any warranties. All warranties are the responsibility of the manufacturer. Active Pool Supply expressly disclaims liability for any injury, loss, damage, or cost (including labor) of any kind arising from the use or inability to use any item we sell.
These criteria apply to warranties for most manufacturers and most products:
Most manufacturer warranties clearly express that warranty applies to defects in material and/or workmanship only, and cover only the replacement of defective or missing parts. Any damage that occurs to a product after it has shipped from the factory is not the manufacturer's responsibility and is not covered under warranty unless caused by defects in material or workmanship.
Labor is not included in most warranties, nor do manufacturers accept responsibility for loss of time, inconvenience, incidental expenses or material charges.
Any shipping charges incurred in the execution of a warranty claim are the responsibility of the owner.
Warranties typically extend to the original retail owner only and are not transferable.
Warranty period begins on date of purchase or installation, if it can be proven with an invoice or proof of purchase.
For products that were shipped internationally, warranties are usually only valid if the manufacturer has a presence in the country where the products were shipped.
Shipping Policy
We make every effort to ship all orders within 24-48 hours of receipt (except for Saturdays, Sundays and holidays), however this is not always possible due to merchandise availability and other unforeseen events. Active Pool Supply does not guarantee transit times on ground packages or standard freight.
From time to time there will be promotional items with free shipping or a flat rate shipping charge.
Free shipping or flat rate shipping fee applies to the continental United States ONLY
.
Freight Shipments
Items shipped within the USA that are too large or too heavy for UPS must be delivered via freight truck. All freight deliveries are scheduled for residential curbside delivery and someone must be there to inspect and receive the delivery. Freight shipments require inspection and signature upon delivery. Any damaged shipments must be refused.
Products Damaged in Transit
While it's unfortunate, products are damaged by the delivery carrier from time to time. You must inspect the item(s) by opening the pallet and boxes to check for concealed freight damage. It is highly recommended that you remove the wrapping and/or box and inspect the product for hidden damage as well. Please clearly notate on the carrier's paperwork that the item was damaged when it arrived, refuse the shipment and supply us with a copy of that paperwork. If the carrier will not let you remove the box, then please clearly write on the freight bill "Subject to Inspection for Damage". Please contact us so we can get you a replacement or find a solution for the damage to be repaired.
Visit our
Shipping Policy
page for more information on what to do when an item is damaged in transit.
At Active Pool Supply we prefer to ship as many orders as we can from our warehouse located in Ontario, California. This is not always possible, so we sometimes rely on drop-shipments from different suppliers to get your order shipped as soon as possible. We know that by shipping ourselves it's more likely that our customers will get the right product, shipped in the right condition the first time, and therefore this is our preference. Below you will find a UPS Ground time in transit map for orders shipping from our warehouse.

Orders shipped directly from a manufacturer are not subject to our control and shipping times vary.



Many of our orders ship on a freight truck, items like large pool filters, pool heaters, heat pumps, slides, diving boards, etc. Those shipments take about the same amount of time to reach the destination terminal (that carriers terminal closest to your location) but can take 1-3 additional days to go out for delivery.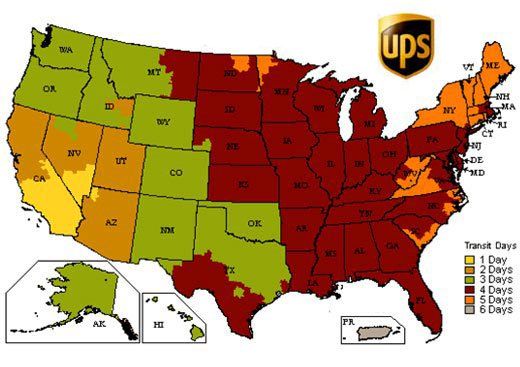 Return Policy
Order must be less than 90 days old in order to be returnable. Return window starts at the date of receipt of order.
Items must be in new and saleable condition, in the original undamaged packaging, to qualify for a return. Any product that has been installed and/or used cannot be returned.
Return Merchandise Authorization
(RMA) must be requested within this 90-day period. Once an RMA has been issued it is valid for 30 days. Customer is responsible for paying return shipping costs.
Cancelling an Order
Cancellations are only allowed if the product has not been shipped or picked up. We pride ourselves on quickly processing and shipping orders, therefore
we cannot guarantee cancellation
. If you wish to cancel an order, please email us at
[email protected]
and
include your order number and "cancel" in the subject line
, this will route your email to the correct team.
Note: your order has not been cancelled unless you receive an email from us confirming cancellation
.
If your order has already been shipped, please request a Return Merchandise Request (RMA) by clicking here.
Visit our
Returns Policy
page for more information on cancelling an order.
Will-Call Orders
Will call orders can be placed online with Active Pool Supply to save on shipping costs, but only for eligible products in stock in our warehouse. We are located in Ontario, California. All will-call orders must be placed online or over the phone and an email will be sent after the order is processed to inform you of the time your order will be ready for pick up. Items not stocked in our warehouse may still be eligible for will call if the item is stocked at a local supplier. But, if the local supplier has a higher cost than our main supplier, then the difference in cost must be added to the selling price you see on the site.
An order which is picked up by the purchaser and/or agent of the purchaser; shall receive the product as being received in new condition and any possible transit damage is the responsibility of the purchaser.
Special Orders
Typically, special orders take two to three weeks for delivery. Every item / order is different, so lead times can vary. If your product has to be special ordered, we will notify you of the fact via email. Special order items most of the time are non-returnable. In some instances, special order items may be returned to the manufacture but restocking fees and shipping charges will be incurred.
Backorders
On occasion items may be backordered because it is temporarily out of stock with the supplier. Every item / order is different, so backorder times can vary. If your order has been backordered we will notify you of the fact via email. If you do not wish to wait for your backordered item, contact us immediately to cancel or change your order. If you wish to cancel an order, please email us at
[email protected]
and
include your order number and "cancel" in the subject line
.
Please contact our customer service team if you would like help changing your order to an in stock item.
Financing
Active Pool Supply does not have its own financing program. However, we offer two third party financing options.
Sales Tax
Active Pool Supply is a California based corporation. We charge sales tax only in those states where we are legally required to. See the map below which identifies if shipping is taxable in your state. Our cart is programmed to follow state sales tax laws regarding tax on shipping costs.
Discounts & Coupon Codes
Cannot be applied to previously placed orders.
Not transferable or redeemable for cash or credit.
Coupon codes are limited to one coupon code per customer, per order.
Certain products can be excluded from coupon codes and/or discounts. See the specific terms of the promotion for a list of included or excluded products.
To apply a coupon code, you must enter it at the Payment page of checkout.

Contacting Us
Visit our
Contact
page for details.
*Subject to approval of credit application. Rates range from 5.99% to 29.99% APR, resulting in, for example, 24 monthly payments of $46.14 at 9.99% APR, per $1,000 borrowed. APRs will vary depending on credit qualifications, loan amount, and term. Bread® pay-over-time plans are loans made by Comenity Capital Bank.